How to order from Makan by Matdespatch x Sunway Pyramid (Mobile Version)
With all your favourite restaurants, you can order at all multiple outlets and only pay for a SINGLE delivery fee!
STEP 1: Tap this "hamburger button" to create your account or sign-in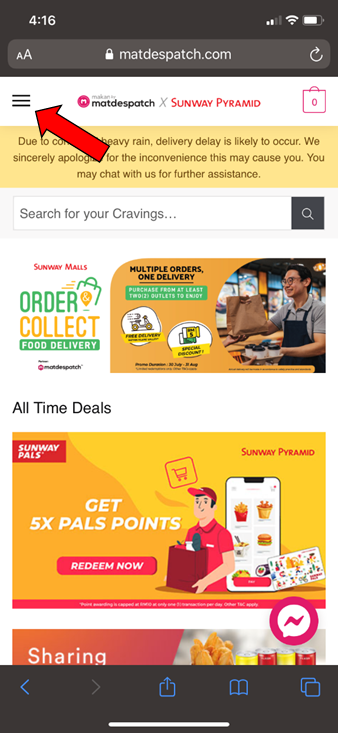 STEP 2: Tap "Sign In"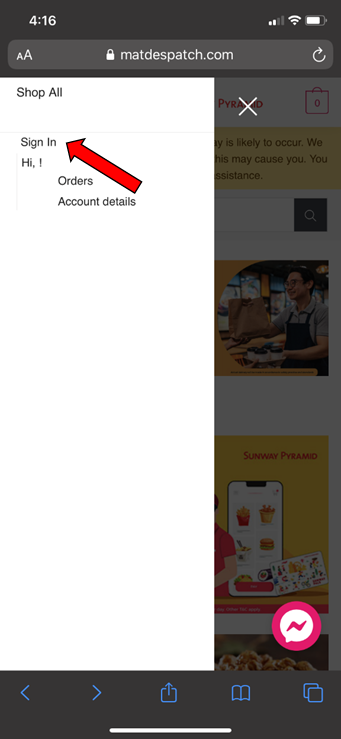 STEP 3: Create or log in to your account using your existing social media account
STEP 4: You can adjust your account details under "My Account". To start ordering, just tap on the "logo" at the top.
STEP 5: On the homepage, just tap on the restaurant to view the menu
STEP 6: Inside the restaurant page,you can choose either exclusive deals (promotion set meal) or À la carte
STEP 7: To select the food, just tap at the "Select Options" and you will redirect to the product page. Remember to indicate your special requests (if any) and quantity before adding to the basket. Some of the food items may require you to select additional options. Finally, tap "Add to Basket".
STEP 8: You still can order from multiple restaurants or "Checkout".
STEP 9: You can review the shopping cart and insert the promo code (if applicable).
STEP 10: Remember to select the shipping method Self-pickup – Drive-Thru @ Orange Entrance OR Delivery.
Delivery: Our rider will send directly to your home. Delivery charges will apply.
Self-Pickup – Drive-Thru @ Orange Entrance: You need to pick up at Sunway Pyramid @ Orange Entrance, our Order & Collect assistant will pick up the items from the restaurants for you. No charges apply.
STEP 11: Remember to choose your preferable Delivery / Drive date & time.
STEP 12: Insert your delivery address (for delivery)
STEP 13: You can add a note to the delivery partner. For example, "Wait at the lobby" / "Call when arrive"
STEP 14: To proceed on the payment, you can tap "Place Order"
STEP 15: Choose your preferred payment method
STEP 16: After you make the payment, you will redirect back to the website
STEP 17: You will receive SMS & Email notifications after a few minutes.
Skip the hassle and avoid the crowd! Order your favourite meal now and we'll deliver to your doorstep.