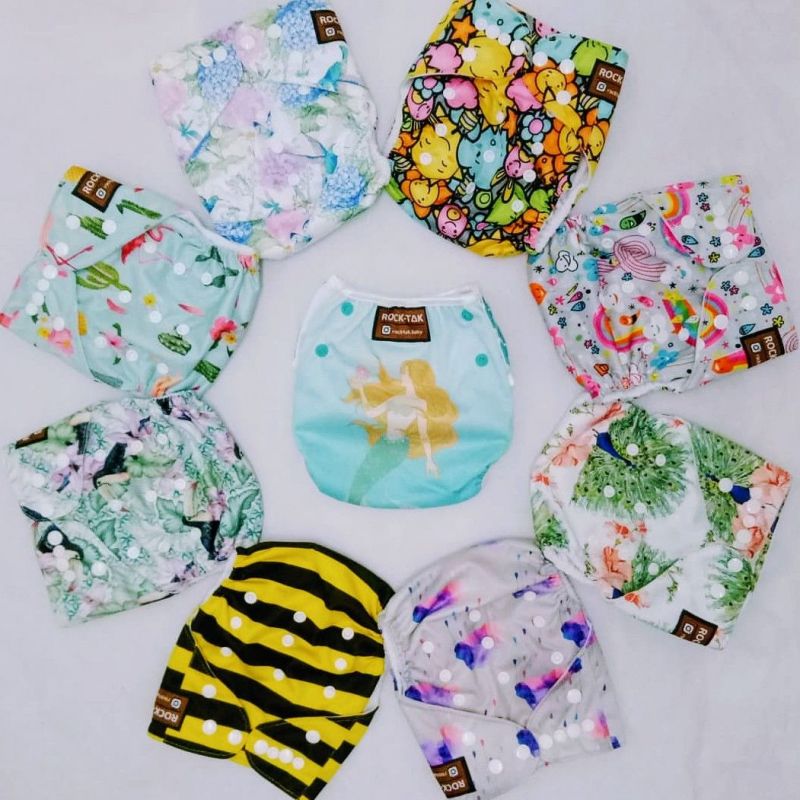 Nabilla Shaharuddin is an former banker who left her comfortable office job in one of the biggest banks in Malaysia primarily to focus on her home and her daughter. However, along the way, she found a unique business opportunity: environmentally friendly baby products — and she got to work really quickly.
The journey towards starting Rocktak Baby is quite a personal one. "The name of the company came from how my grandfather used to describe his daughter's (my mum's) bum would jiggle when she walks  — rock tak, rock tak, rock tak" She explains.
The rationale for her to venture into such a niche market was simple, she grew up wearing similar kinds of diapers and it worked for her, then it worked for her daughter. Mixing practicality with her love for the environment, Rocktak Baby was born.
Her first product were cloth diapers.
Confronting Challenges
She soon found a problem with her cloth diapers: because of the way it is designed, leaks tend to happen with different users when her customer base got bigger, so to speak. Instead of being discouraged, she went back to the drawing board and came up with an innovative approach — a creation of a 3-point fasteners that solved the problem and also made the diapers more comfortable for the babies.
She also had to take a longer time researching the market because there weren't enough people in the market she can observe. There is also a lack of studies done locally regarding her product so she relied on observation and testing. It took her 8 months of using her own products, research, and testing before releasing it for sale.
With the knowledge from the issue she resolved, she started to expand that into modifying her product. She was eventually able to fit her design to cater to babies of all class weights, showing that great things can come from careful planning and diligence.
Diaper stacker by Rocktak Baby is designed and produced by Nabilla
Marketing to A Niche
In terms of marketing, currently Rocktak Baby only exists as an Instagram e-commerce store but Nabilla emphasizes on presentation for her products. Although she is doing the photography and promotion of her product on her own, she tries to implement best practices. "I try to find the best light and the best angle in my house" she says.
She takes up ads on Instagram and uses hashtags to market her products. She also curates her highlights so that customers can readily browse offers and new products without much hassle. So far she has had customers from all over Malaysia, Singapore, and some of the more unlikely parts of the region, including the Philippines and Papua New Guinea.
The advantage of being in a niche market: you are able to master your product fairly quickly. Rocktak baby stayed competitive through well planned pricing mechanism, market research, and great customer service. She follows up almost every purchase, getting feedback and setting actionable goals to settle issues with every aspect of her product.
Through her observation she found out that babies who used her products are able to be potty trained much earlier, at about less than two years compared to babies who use conventional diapers that could take up to three years. She started using that as a selling point.
She has since expanded the range of her products to include swim diapers, a wet bag, potty pants, and a diaper stacker that she designed and produced herself.
Rocktak Baby offers a wide variety of designs
Family and Business
She believes in the product she advocates and she is passionate about running her business. However, she still considers it a part time endeavor — second to only being a mother. Her business transformed according to the needs of her daughter. "I used to do home consultations, but with the increasing customers and my daughter growing up, I focused on selling the products online and use a courier service to deliver my products"
She started to give the option to her customers for same-day delivery by MatDespatch and she also is assisted by her husband who is a full-time fencing coach. They constantly support each other, often her husband acts as a pick up point if customers want to pick up their orders on this side of the city.
This mermaid set is one of the newer additions to Rocktak Baby
Supporting Other Entrepreneurs
Her advice to entrepreneurs like her is simple. "Do your market research and get to know your products because there is no point of a great product if you don't know where and how to penetrate the market." she stresses.
Second, you have to sell something you really believe in, and thirdly, businesses, especially small businesses, need to persevere because there are good months and bad months. Your ideas must expand to adapt to the constantly changing landscape of business.
You can visit her e-shop at https://www.instagram.com/rocktak.baby/